Jeff Pabst Profile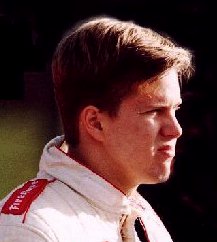 DRIVER: JEFF PABST
Born: Toronto, Canada. May 30 1969
Currently living in Schomberg, Ontario. Canada
Marital status: married to Dora Boylen
CAREER HIGHLIGHTS:
LICENSE: ASN CANADA FIA INTERNATIONAL C PRO
90-91- SPENARD-DAVID RACING SCHOOL. CLASS WINNER, SELECTED AS MOST PROMISING DRIVER.
91-92- PLAYERS GM SERIES, IROC CAMARO Z28 ,4TH IN ROOKIE STANDINGS COMPETED IN ONLY FOUR RACES.
92-93- FIRESTONE FIREHAWK SERIES, PFAFF VW JETTA, FIRST PRO WIN, MOSPORT TRACK RECORD.
93-94- FIRESTONE FIREHAWK SERIES, PFAFF VW CORRADO, THIRD IN NATIONAL & TEAM CHAMPIONSHIP.
94-95- MICHELIN ENDURO SERIES, PFAFF VW CORRADO, WITH CO DRIVER RICHARD SPENARD. 4TH IN CHAMPIONSHIP.
95-96- EXXON SUPREME SERIES, PFAFF PORSCHE 944 TURBO GT2, 12 HOURS OF SEBRING AND MOSPORT . BOTH MECHANICAL DNF'S
- MAGNA ENDURO SERIES, CAMARO Z28 OVERALL WIN.
96-97- MAGNA ENDURO SERIES, PFAFF PORSCHE 968 .TORONTO INDY & MONTREAL GRAND PRIX. MECHANICAL DNF.
- TESTED SHELBY CAN-AM CAR. FASTEST IN TEST SESSION
98-99- MOTOROLA CUP, PFAFF PORSCHE 996, TORONTO INDY AND MOSPORT WITH
CO- DRIVER DAVID TENNYSON. FINISHED EIGHTH AT INDY AND MECHANICAL DNF AT MOSPORT.
99-00 CANADIAN CHAMP CAR LIGHTS, OPEN WHEEL DEBUT , FINISHED 5TH IN STANDINGS AND ROOKIE OF THE YEAR.
KYSER RACING:
AMERICAN LEMANS SERIES DEBUT IN ADELAIDE, AUSTRALIA WITH
KYSER RACING. RUNNING IN THIRD PLACE UNTIL OIL LINE FAILURE, FINISHING TENTH IN CLASS.
2001 AMERICAN LEMANS SERIES 12 HOURS OF SEBRING
FINISHING SEVENTH IN CLASS BEHIND THE FACTORY PORSCHE AND BMW TEAMS. FIFTEENTH OVERALL.
2001 AMERICAN LEMANS EVENT AT MOSPORT FINISHING 6TH IN CLASS 17TH OVERALL.
2001 AMERICAN LEMANS EVENT AT INFINEON RACEWAY, SONOMA CAL. DNF DUE TO CRASH

PORSCHE SUPERCUP SERIES:
COMPETED IN PORSCHE SUPERCUP EVENT 2001 AT INDIANAPOLIS F1 EVENT
FINISHING 12th OVERALL

TEAM SEIKEL MOTORSPORT:
2002 SEASON -COMPETED IN MOSPORT ALMS EVENT WITH TEAM SEIKEL OF GERMANY
FINISHING 4TH IN CLASS AFTER TEAMMATE CRASHED OUT OF RACE.

ISTOOK-AINES MOTORSPORT GROUP:

COMPETED IN DAYTONA GRAND-AMERICAN CUP FINALE.
DRIVING TEXAN DON ISTOOK'S AUDI S4
FINISHING 7TH IN CLASS, CONSIDERING
PROBLEMS HAD OCCURED WITH THE CAR.


HOBBIES & INTERESTS:
GO KARTING, DOWNHILL SKIING, MARTIAL ARTS, ROCK CLIMBING, ANTIQUES AND COLLECTIBLE CARS.

DRIVER REFERENCES:
DAVID TENNYSON: IMSA CAMEL LIGHTS & GTP STAR. 416-436-2819
RICK BYE : PORSCHE ENDURANCE DRIVER/COACH. 905-988-9445
PIERRE SAVOY: DRIVER TRAINING COACH. 416-259-9109
RICHARD SPENARD: PLAYERS DEVELOPMENT COACH. 407-276-5065
Contact Jeff at : jpabst@hjpfaff.com
click-HOME