Jeff's Viewpoint
Mosport international Raceway May 17th 2003
Wet weather was the plan for Audi quattro racer Jeff Pabst and his Pfaff Audi
sponsored STaSIS Engineering Quattro A4, but as the sun opened up during qualifying
Saturday, so did too the transmission of his Audi and also his teammate's Jon Prall.
This is a very rare occurance for the Audi transmission to break, but is attributed
to the standing starts which are used in the Speed TC series and are very hard on equipment.
Both cars did qualify but with only three hours till race time the thought of repairing
two broken Quattro transmissions in time seemed an impossible task. Only one spare trans
was on hand by the team and team owner Paul Lambert elected to install it in series regular
Jon Prall's car due to the valuable points available with a strong finish. Which left Jeff's
car with no gearbox. But, with never give up Audi attitude, and the help of the boys
at Champion Racing the trans was rebuilt using the two remaining broken units and it was
back in time for the team to perform a miraculous 20 minute installation and got Jeff
on the track, but unfortunately 3 laps down. Jeff did run with the leaders showing his
strength, though not jeopardizing the competition. John Prall's Pfaff Audi finished 5th and
Jeff finished 32nd 3 laps down. Stay tuned as Jeff has other racing opportunities coming up!
PFAFF Audi Champion Racing STaSIS Engineering


STaSIS A4 Touring Cars as driven by Jon Prall and Jeff Pabst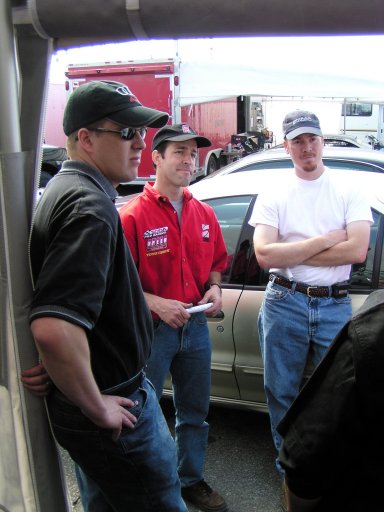 Jeff Pabst, Paul Lambert and Jon Prall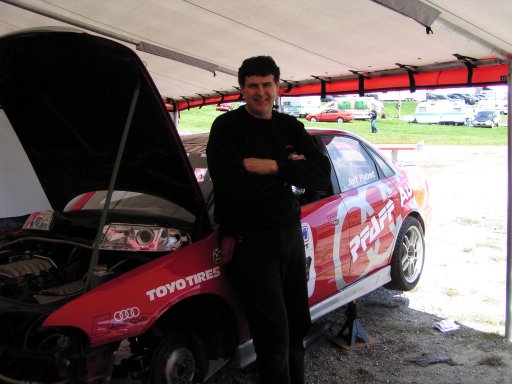 Perry Mason of Pfaff Audi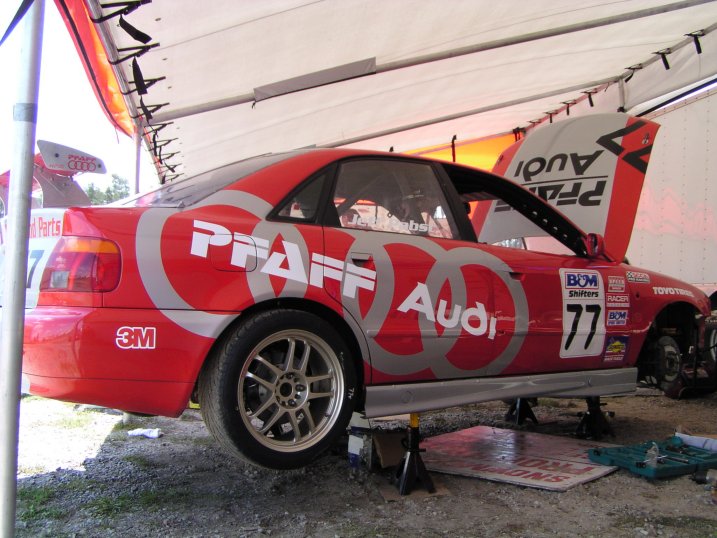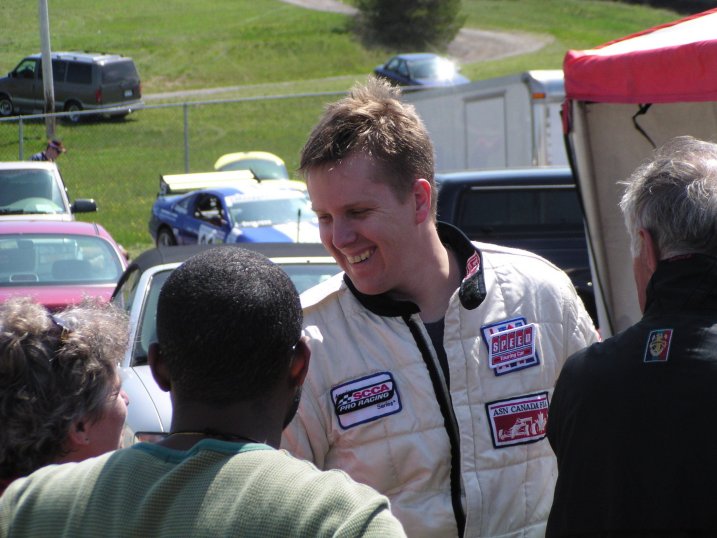 Jeff talks with fans after the race




Results of Speed Touring Round 2 Mosport 05/17/03




Fn St. No. Driver/Hometown Sponsor/Hometown Pts Purse Laps Interval Fast Fast
Pos. Pos. Time Speed
1 3 42 Pierre Kleinubing/Erexim/BZ RealTime Racing/Acura/Acura RSX-S 33 10600 28 1:34.311 93.86
2 8 93 Bill Auberlen/Hermosa Beach/CA Turner Motorsport/H&R Springs/BMW 325i 27 7200 28 -0.318 1:34.280 93.89
3 1 81 Mike Fitzgerald/Phoenix/AZ Team FBR/Trans Sport/Lexus IS300 28 3000 28 -0.813 1:34.480 93.70
4 4 92 Will Turner/Newburyport/MA Turner Motorsport/H&R Springs/BMW 325i 24 3700 28 -1.003 1:34.379 93.80
5 10 78 Jon Prall/Cupertino/CA STaSIS/Audi A4 21 2500 28 -3.781 1:34.369 93.81
6 5 50 Matt Plumb(R)/Newport/RI duPont Motorsport/ERT/BMW 325i 21 1300 28 -4.048 1:34.507 93.67
7 7 19 Chuck Hemmingson/W. Des Moines/IA OPM Mtrsprts/TBPG/Mazdaspeed/Mazda ProtegeES 19 2200 28 -4.988 1:34.601 93.58
8 9 7 Ken Dobson/Carmel Valley/CA Chili Pepper Racing/Remote Med/BMW 325Ci 18 1100 28 -5.582 1:34.704 93.47
9 15 83 Tim Pappas(R)/Boston/MA Team FBR/Trans Sport/Lexus IS300 17 1000 28 -6.59 1:34.593 93.58
10 14 64 Bob Endicott(R)/San Pedro/CA King Motorsports/Mugen Power/Acura RSX-S 16 900 28 -6.861 1:35.039 93.15
11 22 13 Charles Espenlaub/Lutz/FL Circuit City/Mazda/Mazda ProtegeES 15 800 28 -7.8 1:35.059 93.13
12 21 88 Roger Foo/Hayward/CA H&R Springs/Advance Clutch/BBS/Mazda ProtegeES 14 700 28 -8.226 1:34.773 93.41
13 18 27 Nic Jonsson/Dankeryt Sweden/ Lectair/Techmar Corp./BMW 325Ci 13 600 28 -10.859 1:35.182 93.01
14 13 24 Jim Osborn/Ooltewah/TN TC Thompsons ChildrensHospital/BMW 325Ci 12 550 28 -12.933 1:35.734 92.47
15 27 36 James Clay(R)/Blacksburg/VA Bimmerworld/GMG/BBS/Ground Ctl/BMW 325i 11 500 28 -13.901 1:35.442 92.75
16 20 99 Robert Stretch/Dallas/TX Wheels America/BMW 325Ci 10 450 28 -14.2 1:35.675 92.53
17 12 18 Scott Bradley/Mountain View/CA OPM Mtrsprts/TBPG/Mazdaspeed/Mazda ProtegeES 9 400 28 -14.821 1:34.596 93.58
18 24 84 Mike Van_Sicklen(R)/Nashville/TN Team FBR/Trans Sprt/MAI/Procam/Lexus IS300 8 375 28 -15.744 1:35.582 92.62
19 37 21 Chistian Elder(R)/Denver/NC Great Clips/Ameripride/Mazda ProtegeES 7 450 28 -16.097 1:35.953 92.26
20 25 89 Jocelyn Hebert(R)/Belcancour/QB Trois-Rivieres Acura/Honda/Acura Integra R 6 300 28 -17.163 1:35.943 92.27
21 32 68 Leo Capaldi/Lenox Twp./MI GKN Sinter Metals/Mercury Cougar 5 28 -19.316 1:36.250 91.97
22 19 94 Frank Selldorff/Boston/MA Turner Motorsport/H&R Springs/BMW 325i 4 28 -19.331 1:35.526 92.67
23 23 51 Alfred duPont/Kennett Square/PA duPont Motorsport/ERT/BMW 325Ci 3 28 -20.227 1:36.438 91.79
24 30 37 Matt Richmond(R)/Mooresville/NC Bimmerworld/GMG/BBS/Ground Ctl/BMW 328i 2 28 -22.862 1:36.786 91.46
25 31 44 Kevin McKee(R)/San Francisco/CA RealTime Racing/Acura/Acura Integra R 1 28 -24.394 1:36.815 91.44
26 34 34 Michael Thornley// S-matrix/ATS/Acura Integra R 28 -26.701 1:37.240 91.04
27 39 58 Tom Stewart(R)/Purcellville/VA Red Line Motors/Honda Civic Si 28 -27.327 1:36.912 91.34
28 26 35 James Sofronas/Newport Beach/CA Global Mspt Group/DTMPower.net/BMW 325i 28 -1:19.007 1:35.829 92.38
29 11 4 Shauna Marinus/Folsom/CA TriPoint/Mazdaspeed/Mazda ProtegeES 27 Mech. 1:34.751 93.43
30 38 80 Will Lin(R)/Vancouver/BC Woodhouse Racing/BMW 325i 27 -1 laps 1:39.003 89.415
31 33 33 Brad Sofronas/Newport Beach/CA Global Motorsports Group/GBR/BMW 328i 26 Mech. 1:37.344 90.939
32 36 77 Jeff Pabst(R)/Schomberg/OT Pfaff Audi/STaSIS/Audi A4 25 -3 laps 1:36.466 91.767
33 17 98 Neal Sapp/Ellicott City/MD Wheels America/BMW 325Ci 19 Crash 1:35.120 93.065
34 42 95 Steven Piantieri(R)/Orlando/FL Macklin Inc/Irsh Mike's Racing/Subaru Impreza 19 Mech. 1:40.635 87.965
35 40 79 Nick Woodhouse/Vancouver/BC Woodhouse Racing/BMW 325i 14 Oheat 1:38.974 89.441
36 28 00 Andrew Monterrubio/Red Bluff/CA Tech2Motorsports/Acura Integra R 12 Mech. 1:36.608 91.632
37 29 86 Robert Baxter/Atlanta/GA H&R Springs/Advance Clutch/BBS/Mazda ProtegeES 9 Crash 1:36.127 92.090
38 43 26 Michael Flynn(R)/Orlando/FL Irish Mikes's Racing/Subaru Impreza 100 9 Mech. 1:40.581 88.012
39 16 46 Zac Mazzotta(R)/Santa Barbara/CA RealTime Racing/Acura/Acura RSX-S 8 Trans. 1:35.986 92.226
40 2 40 Jeff Altenburg/Ellicott City/MD Tripoint/Mazdaspeed/Mazda ProtegeES 1 200 5 Throttle 1:34.721 93.457
41 41 54 Paul Bonaccorsi/Rancho Cucamonga/CA Palomar Technologies/Mazda ProtegeES 5 Oheat 1:40.597 87.998
42 6 1 Peter Cunningham/W. Bend/WI TeamRTR/Nissan Motorsports/Nissan SE-R 0 Clutch no time
43 35 38 Paul Gargiulo/Greenwich/CT Global Motorsports Grp/BMW 325 0 DNS no time


Website by Perry Mason Enterprises
Audisportclassics